Dr. Wang's office is located on the second floor of  the new SME building (room 203D). From Interstate 5 (A on Google Maps link) exit at La Jolla Village drive and then head west. Skip first signal and keep right on La Jolla Village drive to take Gilman drive exit. Parking permits may be purchased from Visitor Information Center (B) located on Gilman Drive. Continue on Gilman drive and take left at the intersection on Voigt drive. Continue on Voigt drive and the SME building will be the 1st building on your left (opposite to the swimming pool). If you have visitor parking permit, Parking lot 502 (C) is accessible or two-hour metered parking lots are available in Lots P503 and P508 for all university visitors.
Link to Google Maps
Link to Campus Parking
Structural and Materials Engineering (SME) Building, UCSD
Arial view of the beautiful UCSD campus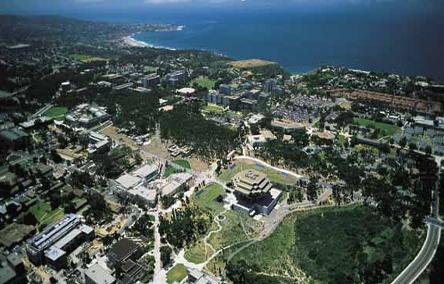 © 2021 Department of Nanoengineering. All Rights Reserved.